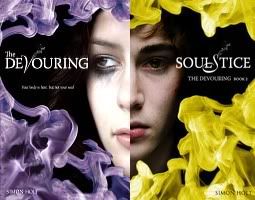 Just today after school I finished an excellent book by Simon Holt called
Soulstice
, the sequel to
The Devouring
but only book two in the series (the third book comes out fall of next year).
In
The Devouring,
readers are introduced to the main characters: Reggie (short for Regina), her best friend Aaron, and her younger brother Henry. Reggie and Aaron are into horror novels and movies, so when they find what they think is just another ghost story, they're thrilled. But it doesn't go too well when Reggie's brother Henry gets possessed by a demonic being called a Vour and she has to face terrifying visions and nightmares to save him.
Continued with
Soulstice,
Reggie thinks the haunting of the devilish Vours is over. But that's until the horror comes back to herself, her friend, and her brother, driving them to madness. Now they'll have to stop the Vours for good before the night of the solstice, the night they'll have the most power.
I first heard about
The Devouring
much earlier this year. I was stumbling around Barnes 'n Noble's website and came across it. Sounded interesting, so the next time I went to Mayfair Mall I picked up a copy at B&N. It was definitely much better a book than I expected. And
Soulstice
was no disappointment either. The ending left me in awe and I can't imagine how I'm going to just sit around and be expected to wait for the next book.